Synopsys
Company Overview
Synopsys offers the most comprehensive solution for building integrity—security and quality—into your SDLC and supply chain. We've united leading testing technologies, automated analysis, and experts to create a robust portfolio of products and services. This portfolio enables companies to develop customized programs for detecting and remediating defects and vulnerabilities early in the development process, minimizing risk and maximizing productivity. Synopsys, a recognized leader in Application Security Testing, is uniquely positioned to adapt and apply best practices to new technologies and trends such as IoT, DevOps, CI/CD, and the Cloud. We don't stop when the test is over. We offer onboarding and deployment assistance, targeted remediation guidance, and a variety of training solutions that empower you to optimize your investment. Whether you're just starting your journey or well on your way, our platform will help ensure the integrity of the applications that power your business.
Solutions Overview
Products
We offer a time-proven, industry-leading product portfolio.
Static Analysis (Coverity & SecureAssist)
We offer a multi-tiered workflow that integrates preventive tests (SecureAssist), which quickly analyze code early in the development process and comprehensive tests (Coverity), which weed out defects across the entire SDLC.
Fuzz Testing (Defensics)
Helps effectively and efficiently "shrink" security problems to a manageable size by reducing the infinite pile of misuse cases to those that matter the most.
Software Composition Analysis (Protecode)
An innovative binary scanner that addresses third-party software vulnerabilities.
Interactive Application Security Testing (Seeker)
Continues to be one of the most broadly adopted IAST solutions, providing a wide range of language coverage and good SDLC integration.
Managed Services
Get the testing capacity you need, at the depth you need, to rapidly respond to changing testing requirements and evolving threats—without having to scale the cost.
SAST
Scan source code and systematically identify and eliminate software security vulnerabilities
DAST
Identify security vulnerabilities while web applications are running without the need for source code
Penetration Testing
Eliminate vulnerabilities in your server-side applications and APIs
Mobile Applications
Combine traditional static and dynamic testing techniques to discover vulnerabilities, malicious, or potentially risky actions.
Professional Services
Address your unique security and quality needs with specialized consulting by skilled experts.
Architecture and Design
Identify missing/weak security controls, understand design best practices, and mitigate security and quality defects
CI/CD
Inject security and quality analysis within your development workflow at the right time, at the right level, with the right tools and processes
Cloud
Develop a sustainable software integrity initiative for applications deployed to the cloud
IoT/Embedded Devices
Identify software defects through analysis of access vectors including communication, client and server.
Program Design & Development
Our experts draw on experiences working with hundreds of organizations to help you define, implement, and measure a software security initiative (SSI) to reflect your evolving development and deployment environments.
Building Security In Maturity Model (BSIMM)
Measure the software security initiative's (SSI) effectiveness by assessing your current state
Maturity Action Plan (MAP)
Clear directions for establishing or maturing your software security program
Metrics Development
Well-defined, achievable metrics tailored to your risk profile and business processes
Software Security Initiative in-a-box (SSIB)
Set the course for ongoing improvement through standards, tools, and education
Training
Prepares developers and security professionals to build security and quality into their software development process and remediate found vulnerabilities and defects.
eLearning
A suite of on-demand, online application security training classes based on real-world experience and taught by industry-leading security practitioners
Instructor-led training
Hands-on, technically rich training experience delivered on your own premises or virtually.
IDE-based training
Learn secure coding best practices as you code.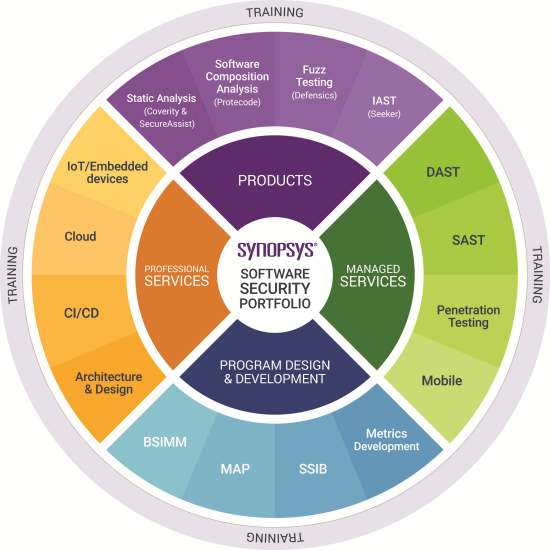 For more information, please visit https://www.synopsys.com/software-integrity.html