Imperva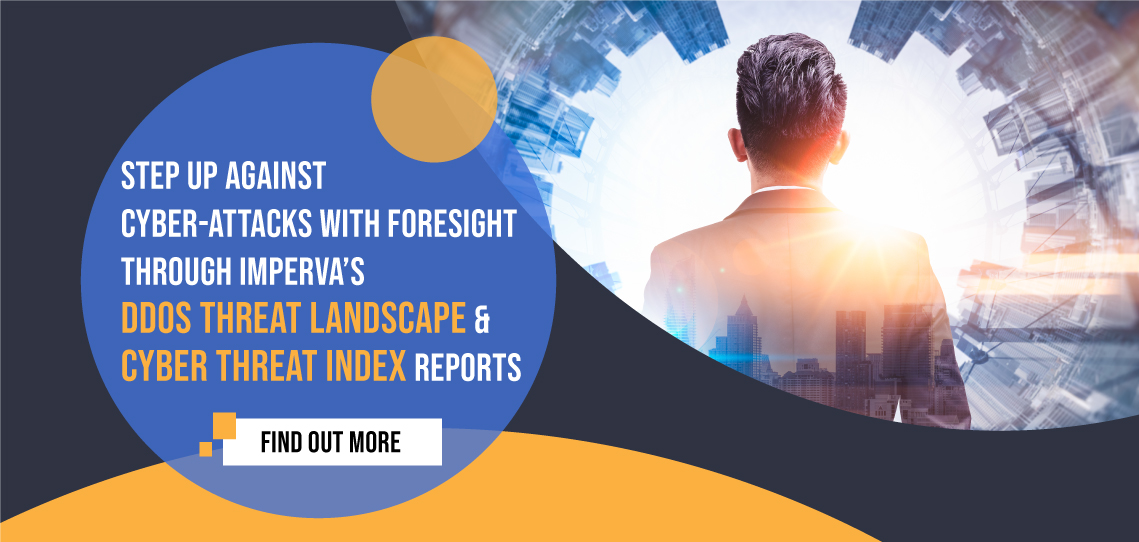 Company Overview
With an analyst-recognized wide portfolio of Application, Data, and Cloud Security solutions, Imperva protects businesses from ever-changing cybercriminal attacks by securing the mission-critical applications and data that they rely on. Once deployed, Imperva solutions proactively identify, evaluate and eliminate current and emerging threats, so businesses never have to choose between innovating for their customers and protecting what matters most.
Download Imperva Corporate Overview Datasheet
Products Overview
Applications have become mission-critical for organizations looking to drive rapid growth. They help facilitate customer reach around the world and can act as the primary business model. These applications require protection from security threats, yet end-users demand high availability and an uninterrupted experience, which can make for a tough balancing act. To meet this need, Imperva Application Security empowers organizations to protect their applications and mitigate risk while also providing an optimal user experience.
Attack Analytics
Mitigate and respond to real security threats quickly and decisively with actionable intelligence across all your layers of defense.
Automatically correlate and extract meaningful narratives from thousands of security events, using machine learning
Reduce risk by combating alert fatigue
See attacks from the edge to the heart of the network, incorporating behavioral attack data from every customer we protect
Web Application Firewall (WAF)
Cloud WAF and WAF Gateway allow legitimate traffic through and keep bad traffic out. Whether your applications and APIs are hosted in the cloud or on-premises – protect them at the edge with an enterprise-class WAF.
Out-of-the-box option deploy in blocking mode with little to no tuning and near-zero false positives
Automatic OWASP threat protection backed by a team of security experts
Highly configurable to allow tight security for your specific applications
Machine learning dynamically profiles application structure and usage, blocking anomalies and illegal traffic
DDoS Protection
Maintain uptime no matter what. Prevent any type of DDoS attack – of any size – from blocking access to your website & network infrastructure.
Best-in-the-industry 3-second mitigation SLA
Automatic detection and mitigation
Available in always-on or on-demand mode
44 global scrubbing centers, 6+ Tbps of scrubbing capacity at 65 billion Packets-Per-Second (PPS)
Runtime Application Self-Protection
Secure your applications with a single plugin that protects both legacy and modern applications against previously-known and zero-day attacks.
Push code into production fast with security embedded
Autonomous protection blocks real-time attacks without added latency
Works in any type of deployment architecture including on-premises, in the cloud, and in containers
API Security
Enable your DevOps and Security teams the flexibility to quickly publish their APIs with the added visibility required to secure all your endpoints.
Automatic positive security model generation with each OpenAPI Specification file
Simplified management of protection for both websites and APIs
Seamless integration with leading API Management vendors
Bot Management
Protect your websites, mobile applications, and APIs from automated threats without affecting the flow of business-critical traffic.
Accurately detect and stop web scraping, online fraud attempts, account takeover, credential stuffing, vulnerability scanning, and more
Detects and blocks the most sophisticated bots
Real-time bad bot behavior across our network correlates with the largest known violators database
Pinpoint anomalies with biometric data validation and rate limits based on device fingerprints
Vigilant service from the most experienced bot experts in the world
Application Delivery
Improve website performance and reduce bandwidth costs with a developer-friendly CDN. Cache static resources at the edge while accelerating dynamic websites and APIs.
Fast onboarding with a simple DNS change
Offload origin bandwidth via automatic content profiling
Layer 7 cloud load balancing with redirect and rewrite rules
Imperva Data Security reduces your security and compliance risk while enabling digital transformation. It protects your data on-premises and in the cloud by discovering sensitive data, monitoring all data activity, stopping unauthorized access, uncovering risky users and suspicious actions, providing actionable security insights and masking data for non-production use.
Data Risk Analytics
Discover risky data activity and prevent a data breach before any damage happens. Investigate more data threats faster. Reduce risk with a proactive security approach and actionable insights.
Distills billions of audit events into a manageable number of security insights
Provides granular risk context into how data is being used by whom with machine learning and behavior analytics
Explains incidents in plain language to accelerate investigation and reduce risk
Data Monitoring and Protection
No one accesses your data without you knowing about it. Audit all data activity, including local privileged users and applications. Get immediate detection and split-second response to threats.
Stops threats in real-time with pre-built or custom security policies that block unauthorized activity
Automatically captures detailed audit trail showing who accessed what data, when and what was done to the data for compliance and forensics
Enables consistent oversight across a wide range of environments – databases, big data, clouds, mainframes and more
Data Discovery and Classification
Know what sensitive data you have, and where it lives. Reduce risks to security and compliance by discovering new, forgotten, or rogue databases. Identify data stores in scope for compliance.
Automates discovery of databases on-premises or in the cloud
Identifies sensitive, regulated data for compliance mandates (e.g. PCI, HIPAA, GDPR)
Examines database content and metadata for pre-defined and custom data types
Database Vulnerability Assessments
Find security gaps that attackers can exploit. Scan databases for vulnerabilities and misconfigurations. Get recommendations on remedial actions.
Identifies vulnerabilities and misconfigurations for databases on-premises or in the cloud
Leverages over 1,500 pre-defined assessments, based on CIS and DISA STIG benchmarks
Data Masking
De-identify sensitive data in non-production environments. Safely unlock the power of your data. Mitigate data breach risks. Comply with data privacy and protection regulations.
Replaces sensitive data with fictional, but realistic values using multiple transformation techniques
Maintains data utility with referential integrity and statistical accuracy
Delivers enterprise-class scalability and performance by masking large volumes of data quickly and easily
Supports a broad range of data stores
File Security
Stop ransomware in its tracks. Protect sensitive files from cybercriminals and malicious insiders.
Uses policy-based monitoring and deception technology
Detects ransomware-infected users and blocks them from connecting to file shares in real-time
Pinpoints risky file access activity by leveraging data risk analytics
Blocks or quarantines risky users
Deploy your applications and data where you want. When you want. Imperva keeps them secure in the cloud, on premises, and in hybrid clouds. Learn More.